We help children to develop their emotional intelligence and social skills through new technology and mobile devices.
Our apps are a parent-child communication tool.
The length of the stories, the characters, games and animations in each tale, are specially designed to appeal to boys and girls aged 2 to 6.
When children learn to recognize their emotions, they become able to control them and use them for their own benefit. They become values and principles that stay with them for the rest of their lives.
Read the interactive stories with your children and take the opportunity to talk about them together. Use these tales to show them how to act and react properly in similar situations. It is a fun way to teach them basic values, spend quality time with them and use your iPad to forge a stronger bond!
Grite is a family-studio made up of independent professionals in the business of interactive communication in new media. We design and develop webs and apps for our clients.
All of us at Grite are fathers, mothers or uncles of children, so we decided to combine our passion for our work and technology with the love and affection we feel towards our kids. That is why two years ago we started our own Project: "Alma's Powers", a series of apps that take advantage of the great attraction mobile devices have for children, in order to turn them into a tool for personal growth and emotional development.
We firmly believe that tablets and smart phones can be a great ally for parents, not just for academic education but also for children's personal and spiritual growth. As a result, we have decided to create the apps and tools required to do that.
We are adults who understand communication, working for kids who know how to have fun!
Our character is a cute little girl with curly hairs
One day, her mother tells her that the key to becoming a superheroine in life is to just transform inner values into strength, and that with the help of this power every obstacle can be overcome.
Alma does not really understand what her mother is telling her. but she sets out to get those powers. The 'Alma´s Powers' series of apps presents the experiences that help her to achieve this.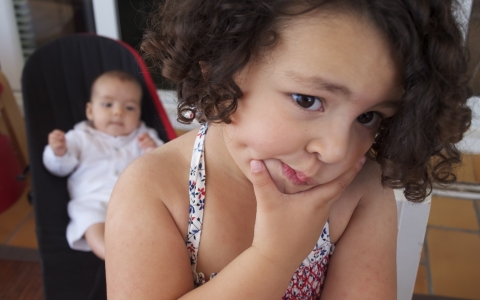 But Alma Really exists!
She is our almost 5-year-old daughter, who is running around in our house, searching for the iPad and asking all kinds of questions. Like every kid her age, she is full of energy and feelings and sometimes it's difficult to channel her energy in the right direction.
Her questions and experiences have inspired us to produce our Alma series, in which the main character Alma experiences little adventures that are fun and at the same time meaningful.